La Crosse County Solid Waste Department
Tier 1 particpant since 06/01/2011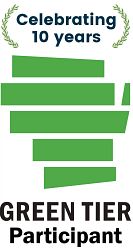 The La Crosse County Solid Waste (LCSW) complex incorporates not only solid waste disposal, but offers many opportunities from waste recovery and reuse, recycling and Household Hazardous Waste Collection to waste diversion for energy recovery on a 300 acre complex. Their approach to an integrated management system is further exemplified under endorsement of the Natural Step model for sustainable communities. The La Crosse County Solid Waste Landfill Operations emphasizes a regional approach to waste collection and offers additional education and disposal options to the currently contracted counties in the La Crosse Regional Disposal System.
Environmental activities
Additional efforts to capture landfill gas have been announced recently by La Crosse County and Gundersen Lutheran Health System, where landfill gas fill will be piped to the Gundersen facility to meet their energy needs. The complex will further develop an environmental management system that incorporates a Plan-Do-Check-Act process into their existing Strategic Plan for Sustainability. The track record, progressive thinking and management of this operation have proven it to be a leader toward a sustainable future and will undoubtedly sustain its efforts toward continual improvement.
Documents
News
Reports
Commitment outline
Acceptance letter
Application
DNR contact
Company contact
Carolyn Cooper
3911 Fish Hatchery Road
Fitchburg WI 53711-5367
608-931-9387
Scott Szymanski
Operations Manager
3200 Berlin Dr
La Crosse WI 54601
608-789-7862
Related participants