Frito-Lay Beloit
Tier 1 participant since 09/09/2009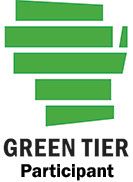 Since 1973, Frito-Lay Beloit of Rock County has produced America's favorite snacks – Lay's brand Potato Chips, Ruffles brand Potato Chips, Fritos, Cheetos, Doritos and Tostitos.
Environmental activities
For nearly a decade, the Frito-Lay Beloit facility has had numerous resource and energy conservation initiatives in place, and it continues to reduce its natural gas, electricity and water consumption. The plant has achieved significant reduction milestones in the past five years including, decreasing natural gas usage by 27%, electricity use by 20%, and water consumption by 50%.
Frito-Lay North America has developed an Environmental Management System that is implemented nationwide and has been the foundation of Frito-Lay Beloit's superior environmental performance over the last few years. Frito-Lay Beloit's participation in the Green Tier Program will further validate this important aspect of the company's culture.
The successful growth of Frito-Lay Beloit's conservation efforts is directly attributed to its associates' dedication to achieving new levels of environmental performance. Frito-Lay Beloit continues to leverage its associates' strengths, along with a positive relationship with the city of Beloit, to reach each of its environmental improvement goals.
Documents
Reports
Commitment outline
Acceptance letter
Application
DNR contact
Company contact
Megan Corrado
101 S Webster St
PO Box 7921
Madison WI 53707-7921
608-405-0327
Brandy Whitt
Environmental coordinator
2810 Kennedy Dr
Beloit WI 53511-3973
608-361-5859
Frito-Lay
Related participants