Evonik Goldschmidt Corporation – Janesville Facility
Tier 1 participant since 08/13/2007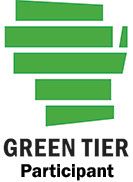 Evonik Goldschmidt Corporation - Janesville Facility (Evonik Goldschmidt) manufactures surfactants for industrial and consumer applications. This facility has been in business for over 50 years, continually changing and improving with time. Their accomplishments have brought about significant environmental benefits.
Environmental activities
In 2002 the plant evaluated strategies to reduce its wastewater generation and contaminant loading. In 2005, Evonik Goldschmidt invested nearly one million dollars to install an emissions scrubber, reducing air pollutants. In addition, major upgrades have been made to their storage tanks' secondary containment. Evonik Goldschmidt has an Environmental Management System certified to ISO 14001 and was certified to the American Chemistry Council Technical Specification Responsible Care® in 2005. While in Green Tier, Evonik Goldschmidt is confident that further improvements will be made in methyl chloride stack emission control, natural gas consumption and the further reduction of biochemical oxygen demand in its wastewater.
Documents
Reports
Commitment outline
Acceptance Letter
Application