Durr Universal, Inc.
Tier 1 participant since 11/05/2015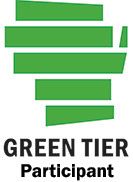 Durr Universal, Inc.* has facilities in Muscoda and Stoughton.
Environmental activities
Previous environmental achievements are numerous for Durr Universal's Muscoda and Stoughton facilities. At the Muscoda production facility over the past three years, three-fourths of the plant's metal halides have been replaced with T5 lighting fixtures. The Muscoda production facility also changed their welding process on a product line which requires 10,000 lbs. of welding wire annually. By changing welding wires, they have reduced their annual Chromium 6 composition from 23.5% to 1.3%, significantly reducing the risk of harmful Chromium 6 runoff and water contamination. Stoughton and Muscoda facilities also jointly participate in Renewable Energy Credits (REC) with Wisconsin Public Power Initiative's local utility companies, purchasing 65 REC's monthly. This offset is the equivalent to the greenhouse gas emissions from 34.4 passenger vehicles each year. (Source: EPA)
Durr Universal has identified several goals for continual improvements in 2015, including implementing an Environmental Management System to further reduce environmental impacts, gain operational efficiencies, and ensure regulatory compliance at all facilities. Durr Universal is also working with Focus on Energy and has several energy efficiency capital projects both underway and planned.
Documents
Annual report
Commitment outline
Acceptance letter
Application
DNR contact
Company contact
Alex Torres
3911 Fish Hatchery Rd
Fitchburg WI 53707-7921
608-609-0001
Ben Nicholson
EHS manager
1925 Highway 51 & 138
Stoughton WI 53589
920-337-1574
Durr Universal
*Formerly known as Universal Acoustics & Emissions Technologies.
**The Beliot facility closed in May 2017.