Legacy Communities Participants and reports
The Green Tier Legacy Communities (GTLC) network exists to advance sustainable practices and stretch limited local government resources. By working together, Legacy Communities are preparing for the future, building resilient communities and moving faster towards their goals.
The network offers many benefits:
additional grant point considerations for select state grants, grant notifications and opportunities for joint grant applications;
peer-to-peer learning and resource sharing;
an assigned liaison within the DNR;
access to the 'Sustainable Strategies' webinar series;
regional collaboration opportunities;
use of the Green Tier logo and statewide recognition; and
free technical support from subject matter experts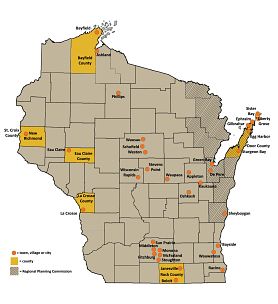 The map to the right identifies the current members. Select the map to see a larger view. Please consider joining these Legacy Communities. Joining is easy and membership is free.
Want to learn more? Please contact Laurel Sukup, Chief, Sustainability and Business Support.
Charter participants
The following communities have signed the Legacy Communities charter.
Charter partners
The following partners have signed the Legacy Communities charter.
The Excel (XLS) files are the participants' metric sheet and should be downloaded in order to be viewed. Previous annual reports. All links exit DNR. Excel spreadsheets will download onto your computer.
Participant
Joined
2020
2021
Bayfield County
3/29/2016
 
 
Door County 
7/28/2020
n/a
PDF
Eau Claire County
12/8/2015
 
(beta-testing)
La Crosse County
2/14/2017
 
 
St. Croix County
5/11/2017
 
(beta-testing)
City of Appleton
12/1/2010
PDF
PDF | XLS
City of Ashland
5/1/2013
 
 
City of Bayfield
12/1/2010
 
 
City of Beloit
10/18/2021
n/a
PDF
City of De Pere
6/17/2019
 
 
City of Eau Claire
7/1/2012
 
(beta-testing)
City of Fitchburg
12/1/2010
PDF
PDF | XLS
City of Green Bay
11/5/2019
 
 
City of Janesville
10/14/2019
PDF
PDF
City of La Crosse
2/8/2013
PDF
(beta-testing)
City of Middleton
12/1/2010
 
(beta-testing)
City of Monona
2/8/2013
 
 
City of New Richmond
2/17/2017
 
(beta-testing)
City of Oshkosh
3/28/2017
 
 
City of Racine
7/26/2018
 
 
City of Sheboygan
4/14/2014
PDF
(beta-testing)
City of Stevens Point
8/28/2017
PDF
PDF
City of Wausau
4/2/2020
PDF
(beta-testing)
City of Wauwatosa
6/21/2017
PDF
 
City of Wisconsin Rapids
8/16/2016
PDF
Town of Gibraltar
10/02/2019
 
(beta-testing)
Town of Liberty Grove
06/01/2022
n/a
n/a
Village of Bayside
2/8/2013
 
(beta-testing)
Village of Egg Harbor
8/22/2017
PDF
PDF
Village of Ephraim
11/12/2018
PDF | XLS
 
Village of McFarland
9/14/2020
 
Metrics

[XLS]


Supporting Actions

[XLS]

Village of Sister Bay
11/9/2021
n/a
 
Village of Weston
12/1/2010
PDF
PDF | XLS
Non-governmental organizations
12/1/2010
 
 
DNR Contact
Jennifer Feyerherm
Environmental Assistance Coordinator
608-287-4175
Additional resources